Melissa Roderick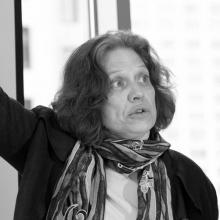 Melissa Roderick  is the Hermon Dunlap Smith Professor at the University of Chicago's School of Social Service Administration, is a co-director at the Consortium on Chicago School Research and the Principal Investigator for the Network for College Success. Professor Roderick is an expert in urban school reform, high stakes testing, minority adolescent development, and school transitions. Her work has focused attention on the transition to high school as a critical point in students' school careers and her new work examines the transition to college among Chicago Public School students. In prior work, Professor Roderick led a multi-year evaluation of Chicago's initiative to end social promotion. She has conducted research on school dropout, grade retention, and the effects of summer programs. She is an expert in mixing qualitative and quantitative methods in evaluation.
Her new work focuses on understanding the relationship between students' high school careers and preparation, their college selection choices, and their post-secondary outcomes through linked quantitative and qualitative research. In this joint project between the Chicago Public Schools (CPS) and the Consortium on Chicago School Research, Professor Roderick is assisting CPS in tracking successive cohorts of Chicago students into college and building new indicators to assess the preparation of CPS graduates for college. Her research is drawing on analysis of school transcripts, surveys, and postsecondary tracking data to develop an understanding of how high schools may better prepare students for college access and success and may better build systems of support for students and their parents in translating college aspirations into concrete plans and academic readiness. The report from this research project, From High School to the Future: Potholes on the Road to College was the result of a longitudinal study that followed 105 CPS juniors from three high schools from the 11th grade through two years after high school graduation. It examined the differences in the educational demands of their classroom environments through a linked study of high school and college classrooms.
From 2001 to 2003, Professor Roderick joined the administration of the Chicago Public Schools to establish a new Department of Planning and Development. As director of Planning and Development, Professor Roderick assisted in the development of a new Education Plan for the Chicago Public Schools and in developing planning initiatives around human capital, accountability, high school reform, post-secondary, the status of youth involved in the child welfare system, health, and after-school.
In 2004, Professor Roderick was honored by the Chicago Sun-Times as one of "Chicago's 100 Most Powerful Women." At SSA, Professor Roderick is the faculty director of a program in community schools and youth development. She is a founding board member and chair of the board of North Lawndale College Preparatory Charter High School. Nationally, she serves on the Carnegie Foundation's National Council on Adolescent Literacy and on MDRC's Education Studies Committee.
Her work has been supported by the J. P. Morgan Chase Foundation, McDougal Foundation, the Polk Brothers Foundation, the Searle Funds at the Chicago Community Trust, the Spencer Foundation, and the Wallace Foundation.
Professor Roderick has a Ph.D. from the Committee on Public Policy from Harvard University, a Master's in Public Policy from the John F. Kennedy School of Government at Harvard University, and an A.B. from Bowdoin College.
The Purple Pen is honored to call Melissa Roderick its first advisory board member.