Shannon Littlejohn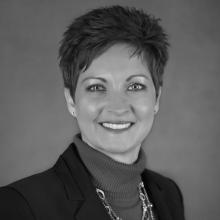 Shannon is a passionate disruptor of traditional corporate training, transforming businesses into leading learning organizations (LLOs).
Shannon's hands on, inspirational and practical organization development experience spans nearly 25 years. Beginning as a trainer of sales and customer service curricula, transitioning into championing people's long-term continuous growth as Vice President of Talent Development. Her experience focuses on integrating talent development strategies that address:
Attracting and retaining skilled professionals at all levels
Developing manager capability to close gaps and support growth
Retaining high performers
Developing succession bench depth
Addressing shortages of management, leadership and executive talent
Shannon has the know-how to strategically integrate holistic learning and development approaches into value-add solutions for improving performance and results for long-term sustainability that supports the company's strategic goals and objectives. Her vast experience ranges from working with academic and community healthcare systems, financial services organizations, manufacturing, retail, public accounting, and real estate management.
Her experience includes nine years heading up a curriculum design team responsible for the design, development and delivery of on-line and classroom learning experiences. As well as, having administrator level responsibilities managing multiple learning management systems (LMS) and participating in the implementation of Human Resource Information System (HRIS) platforms and Electronic Health Record (EHR) systems for multiple emergency departments.
Shannon earned a degree in Business Management, earning additional certifications from Center for Creative Leadership (CCL) for various 360 Feedback Tools and Developing Leadership Talent, becoming an accredited Certified Human Behavior Consultant (CHBC) through Personality Insights, Inc. and a certified administrator and coach for the Myers-Briggs Type Inventory (MBTI) through CPP, Inc.
As a dynamic leader, engaging facilitator, speaker, performance consultant, advisor, and content developer for experiential blended learning, Shannon's passion and unique ability is to guide people through a discovery process toward strategies that improve and grow entities of people in rapidly changing environments that produce long-term success and sustainability. She specializes in knowing how people interact, collaborate and learn to obtain better results through improved relationships that leads to greater personal success.
Shannon is an enthusiastic supporter of The Purple Pen empowering individuals to have ownership over their learning path to support their career growth. Shannon believes The Purple Pen provides learning organizations and individuals with a platform to communicate, collaborate, design, implement and measure true behavior change and competency mastery in an approach that adds the most value for the individual and the organization. Growth isn't just about an individual's potential, it's also about their capability. The Purple Pen is designed to help individuals realize both.